Print advertisers in the Rare Breeds Canada's magazine Genesis are entitled to a free classified listing here on the website and Genesis magazine.  EVENT LISTINGS ARE FREE. Please provide event name, date, location and contact person.  To contact Rare Breeds Canada directly go to www.rarebreedscanada.org or Call the office manager Pam Heath at 204-824-2386 or rbc@rarebreedscanada.ca . Visit the advertising page to learn more or contact us for an ad reservation.
For Sale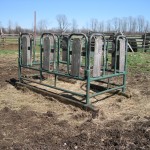 Hay Feeder for sale: Custom made heavy duty horse hay feeder made by professional welder, Ron Townsend. $350 contact Ruth Freeman 613-803-9600 Call or text.
Registered FJORDS: Mares – pasture bred to our reg. Fjord stallion. 2-yr-old team hitched and driven. Yearling filly. 2 weanlings. All very quiet and well-handled on our farm near Mount Forest, ON bosomworth@wightman.ca 519-665-2303
New Massey 51 Walking Skimmers now available, We have re-cast the rotating head, machined the handle and forged the skimmer points and wings. Price $150 + HST Contact: Tony Wallbank (519) 458-8331 or email tlwallbank@gmail.com
Harder's Heritage   New and used draft horse equipment for sale. Authorized Pioneer dealer and Yoder Stocks. Jackie and Owen Harder – teams, 3 horse hitches on farm implements, wagons and some logging.
Share stories, laughs and some good fun on this uniqe vacation only offered in Stirling Ontario. Contact Owen and Jackie Harder 613-395-1855 – http://hardersheritage.com/workshops.html
Plow points New points made for Massey Harris, 51 walking and sulky plows. Contact Nelson Sage, Gordon Street, Thamesville, Ontario, N0P 2K0 (519) 692-4002.
Alberta Carriage Supply http://albertacarriagesupply.com – Our Mission – "To provide a one stop shop of horse drawn vehicle parts, repairs and sourcing by horse people for horse people." We sell a complete line of Pioneer Equipment. We sell vehicle blue print plans and all the parts necessary to complete each vehicle. This is one of the first times this has been done that plans exist to build a vehicle for scratch. Our website works well for us. If a person has a used vehicle to sell we can advertise this as well. Now we have harness and horses for sale on the website too. We sell top of the line harness that can be customized to each person's need. We have a skilled leather work man to repair harness for customers. 403-615-0054 or 403-689-0149 or fax – 403-934-5712.
Workshops/Training
Orchard Hill Farm workshops Ken and Martha Laing Orchard Hill Farm 45415 Fruit Ridge Line RR5 St. Thomas, ON N5P 3S9 519-775-2670 kmlaing@orchardhillfarm.ca