Greetings from Ruth (Genesis Spring 2014)
Welcome to the second issue of the new look Genesis magazine. I hope folks are happy with the mix of Rare Breeds Canada and Draft Horse Connection stories, articles, resources, ads and photographs.
My health continues to improve and I am thankful for the specialists who continue to monitor my well-being.
I want to encourage my past subscribers to continue to submit your stories, photographs, coming event listings, reports on your field days, wagon treks, plowing matches, draft horse days and horse club activities. I also want to mention that as Rare Breeds Canada members you are entitled to complimentary classified ad listings in Genesis and on the Rare Breeds Canada website.
-Sincerely Ruth Freeman
Greetings from Ruth (Genesis Summer 2014)
In May 2014 I bought a new horse . She is a lovely bay mare named 'Tyme'. I can truly say that this mare has improved my health; she has also been great medicine for my heart and soul. George Schaffner: I think you would like Tyme too! I want to send a special thank you to Bill Hardy for helping me find this horse and another thank you to Ron Townsend and his partner Pam for boarding her.
-Sincerely Ruth Freeman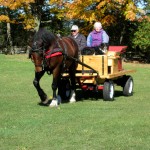 Community Spirit Celebrated!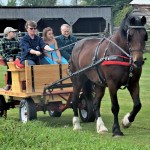 By Ruth Freeman
September 20, 2014 marked a year from when I had cancer surgery.  It was the perfect time to celebrate the community spirit that I am blessed to be a part of. A pork barbeque was held at Ron Townsend's beautiful homestead heritage log farm. This is also the farm where I board my mare, Tyme.  The important goal for me was to have a gathering of friends and family to share in good conversation, great food, and the peace, joy and contentment that brings a closeness to us as a community. I told folks that my last year had been a road of ups and downs. I have a deeper appreciation of how important our friends and family are to each of us and we need to keep reaching out showing compassion, love, support, peace and encouragement to one another.
Tyme gave wagon rides through Ron's farm lanes, fields and woods. The children created crafts, ran free through the hay fields, and played with each other and there were no electronic devices being used! I want to sincerely thank Ron Townsend and his partner Pam who made this an extraordinary day for me. Pam had Ron's shop setup with tables covered with autumn tablecloths and a craft table for the kids.  I
want to also thank all the wonderful cooks who brought a bountiful potluck of delicious food for us to share together. I want to thank my special friends, Sarah and Nicholas Julien who helped setup the
tables, prepare the craft table, organize the food as it came in and helped in preparing food with me.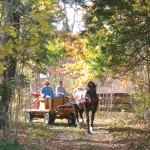 Tyme has proven to be a good mare for me. She has also brought and father and daughter closer together as Dad and I work with Tyme. Bill Hardy made the beautifully crafted wooden deck, seat and dashboard for me on this one ton Pioneer Wagon. Sincerely Ruth Freeman
Winter Greetings from Ruth
Winter of 2011 was the last time I had a horse hooked to my sleigh so I was excited to drive Tyme on the sleigh this winter. For me, driving and working with my horse just gives me such a wonderful uplifting joy to my spirit and soul!
Last fall Jake, my border collie & I walked and marked a trail in Ron Townsend's bush so we could drive Tyme this winter. Dad and I really enjoy driving through the bush, watching for tracks of the night animals, and observing and appreciating nature. In the photograph that shows the heritage buildings Bob Fisher is driving Tyme and Dad is a passenger. The back shot photograph of Tyme shows the origi-nal log sugarhouse; though Ron has built a new sugarhouse, this old building is still standing. You can see Dad driving Tyme into the bush trail in the last photograph.
There are interesting coming events to attend for 2015: The International Plowing Match & Rural Expo will be held in Finch, ON. September 22-26 in the United Coun-ties of Stormont, Dundas and Glengarry- http://www.plowingmatch.org/index.
php/home-2015
2015 marks the 350th anniversary of the
Canadian Horse coming to North America. This all-purpose horse descended from some of King Louis XIV's best horses, sent to the colony of New France (now Que-bec) in the late 1600's. They evolved into the "Canadian Horse", a breed that is now genetically distinct from other breeds.
The Canadian Horse survived hard condi-tions, sparse food, and severe weather to become the easy keeping, and exception-ally strong animals that they are today. These traits have earned the Canadian the nickname "The Little Iron Horse". These Canadian Horses were the first to clear, plough, and cultivate Canadian soil. Upper Canada Village will be celebrating this anniversary Sept. 5th. during their Horse Lover's Weekend in September. This is definitely a special celebration for Rare Breeds Canada.
The 2015 Annual General Meeting for Rare Breeds Canada will be held in Grimsby, Ontario at the farm of Our Gate to Your Plate, June 13th. This is a beauti-ful setting for the meeting and people can see a successful working farm raising
rare breed animals. Andy Sproston has an Open House planned for most of the day. I look forward to Spring and I am thinking about vegetable gardening by planting seeds inside to watch them grow. Hope-fully I will be able to attend some of these public events. Please do take the time to love, enjoy and appreciate your family, friends and animals.