Come to the Quinn Farm for the authentic Christmas family experience… only 20 minutes from Montreal! Choose from over 10,000 trees of all shapes and sizes.  With Balsam fir, Fraser fir, Korean fir, Spruce and White pine for your choosing. Cut it yourself or let  us do the work…from the field to your car we'll make sure everything is taken care of. An experienced farmer will even tie it on the roof of your car…free of charge!
Wagon ride schedule:
Thurs/Fri: leaving at 11:00am, 1:00pm, 3:00pm 
Sat/Sun: every half hour from 10:00am to 3:00pm

Why are Fresh Christmas Trees good for the Environment?
Christmas Trees are nature's purifier! They remove up to 500 lbs of Carbon Dioxide (CO2) from the atmosphere and give off up to 1,350 lbs of Oxygen. Each tree provides close to a year of air for 1 person to breathe! Christmas Trees provide a crucial roll in combating climate change through carbon storage and they provide the air you breathe The cultivation of Christmas trees also provide a natural habitat for animals, birds and insects. It also benefits the environment by enriching the soil and controlling erosion. While it may seem convenient to buy an artificial tree they can be more harmful to the environment in the long-run. Artificial Trees or 'fake trees' are often derived from petroleum by-products (oil). While a fake tree might last many years, once discarded it can take hundreds of years to decompose in a landfill and leak harmful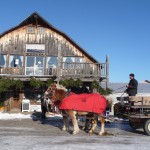 chemicals into the ground. Truly Eco-Friendly Trees: At Quinn Farm we only cut Christmas Trees once they have been chosen and we always ask that people leave a branch on the remaining stump when cutting their tree. Those branches are then turned up and a new tree grown from the existing roots. This technique means we are not "killing a tree" and it will grow more quickly as it already has roots established. We also pasture our sheep in our Christmas trees, this keeps grass and weeds down and fertilizes the trees. In this way we further reduce the carbon footprint of the trees by eliminating driving with a tractor up and down the rows of trees multiple time a year. The Quinn Farm is one of the few places that employs this technique and are able to offer truly Eco-Friendly Christmas Trees! Avoid adding to landfills when you discard your tree after the holidays and bring your tree back to Quinn Farm to have it composted or chipped to use as mulch on our crops.
Merry Christmas!
History
The Quinn farm is a family run farm started by Elwood and Marie Quinn in 1982 when they purchased the 110 acres of land.  Since then the Quinn family have concentrated on making their farm a fun place for families to come for their u-pick activities.  Most recently their son Philippe bought Marie's shares of the farm and has become an official partner in business with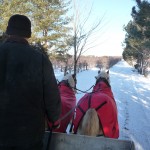 Elwood. That first year, after removal of small trees and shrubs and the installation of drainage,the couple planted 2 acres of strawberries, 5 acres of raspberries, 10 acres of mixed cereals and 2 acres of sweet corn.  In the following year the couple added 10 more acres of strawberries and excavated a small pond, in the front of the farm, so that they would be able to irrigate their crops. In the next two years their efforts were concentrated on expanding crops to include the first pumpkins and a few rows of asparagus, 2 acres of blueberries, additional raspberries, gooseberries and currants. Quinn Farm installed a drip irrigation system to help conserve water, one of the first systems in the province to re-circulate tile drainage water for irrigation. In the fifth year of operation the orchard was planted with more than 18 varieties of apples and a total of 3,800 trees. In 1987, a ravine was damned in order to form a man made irrigation pond. 1,500 loads of soil and 2 weeks of bulldozing resulted in a 35 million liter reservoir.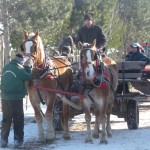 Also in that year tile drainage was completed with approximately 15 kilometers of tubes. In 1990 the Quinn family had it's first major use of compost, approximately 300 tons were applied to improve the condition of the soil. They continue to collect leaves and other organic matter from local municipalities and landscapers in order to make compost and now apply about 3,000 tons to their fields every year. In 1992 the barn which now houses the store and bakery was built. It is an old fashioned timber frame barn and on May 2nd was raised in an old fashion barn raising, by hand. Recycled barn timbers and wood was used as much as possible and family and friends helped in its design, cutting of timbers and pegs, raising and finishing it. In the mid 1990's we started planting Christmas trees with 1,600 Balsam Fir trees.  We have continued to plant Christmas trees each year and now have 13,000 trees and a handful of different varieties. Because Christmas trees take so long to grow, they take up a lot ofspace and at Quinn Farm a technique was developed to regenerate trees from an old stump in order to get a full grown tree more quickly and save replanting trees. Customers are asked to leave one or two branches on the stump when cutting their tree and these are turned up in the summer and they fill out and grow into trees in 4 to 5 years instead of taking 8 years. Phil Quinn, at 15 years old,  buys his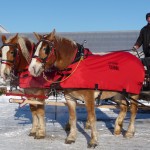 first Belgium horse Laurie with his savings. His beloved mare who worked hard to give sleigh rides at Christmas time, pull wood out of the bush and mothered several foals, one of which, Rosie, still works on the farm today. In 2006 another barn raising took place with family and friends in order to build the Animal Barn. All of the wood in this barn was harvested from the forest on the farm and handmade as an old fashioned timber frame building. The barn now houses pigs, sheep, horses, a donkey, chickens and rabbits. In May of 2009 Phil & Stephanie gave birth to Keith Andrew Quinn, beginning the 3rd generation of Quinn's on the farm.  In the winter of 2010 Phil Quinn bought Marie's half of the farm and becomes an official partner in the business with Elwood.
2495 Boul Perrot
Notre-Dame-de-l'Ile-Perrot, QC J7V 8P4
Phone : (514) 453-1510
Fax : (514) 453-1062
Email : info@lafermequinn.ca